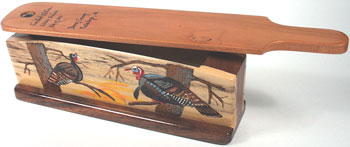 ABOVE - Limited Edition Custom Box Call - left side

BELOW - Limited Edition Custom Box Call - right side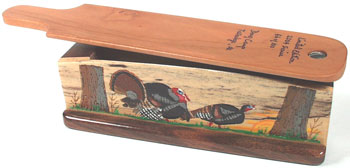 Listen to 24 seconds of yelps, clucks, and cutts
Listen to 10 seconds of yelps
Listen to 6 seconds of clucks
Listen to 8 seconds of cutts

Read about the advantages of a box call.
The Turkey Pro Sez: "You'll not find a higher-quality sounding box call, or a better constructed one than this Limited Edition Box Call by Camp Callers, unless it's another Camp Callers caller! This custom made box is a superb example of fine craftsmanship by veteran Call Maker, Doug Camp. His reputation for making the finest custom calls of all types is well known.
It perfectly imitates yelps, clucks, purrs, and cutts in the hands of even a novice caller. It has been precisely tuned, and will stay in tune with a small amount of maintenance forever. Add the beautiful art work on the lid, and you have a priceless family heirloom call to hand down to your children or grandchildren. The sounds it produces....well... I'll just say it duplicates a real hen turkey like no other box call I've heard.

2004 Poplar
Limited Edition
Custom Box Call
by Camp Callers

A Superior Custom Made Box Call
With Outstanding Sound and Stunning Artwork

Signed by Doug Camp and Numbered
______________

One-of-a-Kind Limited Edition Masterpiece One-of-a-Kind Millennium Masterpiece of fine furniture-grade poplar with cherry wood lid handcrafted with meticulous detail and skill into a superior sounding caller with outstanding
gobbler art.
Beautiful gobbler roosting on one side and chasing a hen on the other side.

Designed and hand tuned to perfection by Doug Camp and numbered. Edition of 100. Hand finished and polished.

Poplar sides and mahogany bottom with cherry lid.

Dimensions: 6" long box, 9" lid, 2 1/4" tall, with lid and base of box 1 3/4" wide.

Very versatile caller that produces a PERFECT double-note yelp with a little raspiness near the end of the yelp like the real hen herself.
Discontinued Product ...
For Informational
Purpose Only