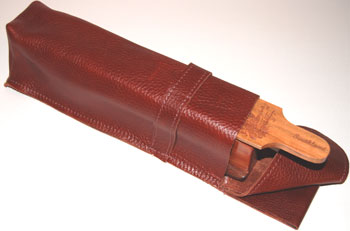 The Turkey Pro Sez: "Every turkey hunter needs a case to protect a box call from moisture, dirt, grim, scratches, hand prints, and the messy M & M hands of little kids. Your calls are like musical instruments...when tuned, they should be kept in a secure environment. Down in the bottom of your turkey vest, where there is a collection of weed seeds, dirt, candy wrappers, and other junk, is not the place.

This Leather Box Call Holster by Roger Raisch Hunting Products has been specially designed to protect those delicately-tuned calls. I always tune my box calls before each day's hunt and put each away in one of these cases".
Turkey Hunting Secrets Leather
Box Call Holster
by Roger Raisch Hunting Products

Protect Your Box Calls
An economically-priced protective soft genuine leather holster for most standard-sized box calls.

Protect and Preserve your box calls from scratches, abrasion, dirt, grim, and moisture.

Durable holster in genuine Woods Brown leather.
Constructed to enable you to carry it on your belt.

Keep the holster securely closed with soft leather tongue under the leather tongue keeper.
TEMPORARILY OUT OF STOCK