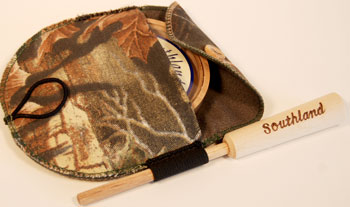 The Turkey Pro Sez: "Every turkey hunter needs cases to protect your best friction calls from moisture, dirt, grim, scratches, hand prints, and the messy M & M hands of little kids. Your calls are like musical instruments...when tuned, they should be kept in a secure environment. Down in the bottom of your turkey vest, where there is a collection of weed seeds, dirt, candy wrappers, and other junk, is not the place.

This CHolster by Roger Raisch Hunting Products has been specially designed to protect those delicately-tuned calls. I always tune my friction calls before each day's hunt and put each away in one of these cases. I keep them in their cases when not in use".
Turkey Hunting Secrets Camo Friction Call Holster
by Roger Raisch Hunting Products

Protect Your Friction Calls

An economically-priced protective universal camo pattern holster for most standard-sized friction calls.

Protect and Preserve your friction calls from scratches, abrasion, dirt, grim, and moisture.

Durable holster with soft suede material on inside. Web belt loop and elastic striker keeper included.
Button and elastic loop holds call securely in place.

Designed to fit calls up to 4 1/2" in circumference.
Out of Stock