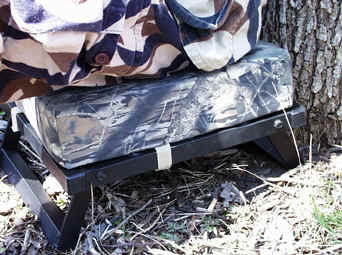 above - both legs extended with Hunter sitting on it.
below - one leg extended om level ground.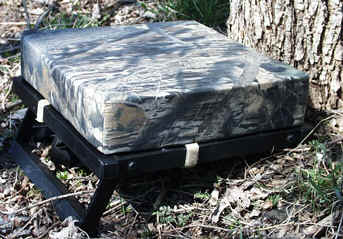 The Turkey Pro Sez: "The Ultimate Seat by Sportsman's Comfort Products is just that. This superior-class adjustable seat solves all the problems associated with the poor-quality, inferior $20.00 seats that hang in most sporting goods stores. It is built Turkey Pro tough.
The legs have horizontal supports, so you won't sink into the ground. The legs are collapsible for easy carrying, and fully adjustable to level the seat when you are sitting on uneven ground. The SeatMate seat cushion is detachable for those times you don't want to use the aluminum seat. The cushion is super comfortable and won't "bottom out" like most cushions.
When carrying the seat with the provided strap, the seat makes no noise and won't catch on brush. The adjustable strap is long enough so you can strap the seat to your turkey vest or back pack.
You'll be impressed with the superb craftsmanship and materials in this product. I don't think you could ever wear out or destroy an Ultimate Seat.
For the ultimate in seating comfort, do yourself and your butt a favor, get the Ultimate Seat !"

Ultimate in comfort ...
combine a SeatMate with a BackMate cushion.

Ultimate Seat
by Sportsman's Comfort Products

Custom Designed Adjustable
Seat With Support Cushion

Superior quality, fully adjustable, super comfortable seat, with two foldable legs, allowing the hunter to sit level in any situation

Designed by orthopedic physical therapists. Made in the U.S.A.

Strong, sturdy, lightweight aluminum frame, with foldable legs. Will support any person without bending, collapsing, or sinking into the ground

Includes detachable SeatMate seat cushion.

High density durable 95# open cell foam guaranteed to last and not "bottom out".
Dimensions:
Cushion - (14" square, 3" thick) Adjustable 48" carrying strap

Weight: 4 pounds

Soft, quiet, True Timber Camo material. Removable, washable cover.
Price: $56.99
ORDER