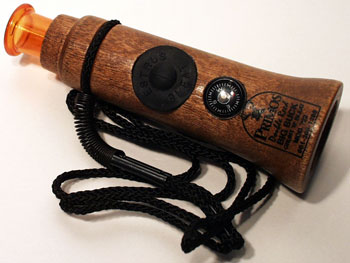 Listen to:
grunt/estrus bleats ( 12 seconds )
dominant buck grunts ( 8 seconds )
buck grunts ( 9 seconds )
doe grunts ( 7 seconds )
doe in estrus bleats ( 9 seconds )
fawn bleats ( 8 seconds )
The Turkey Pro Sez: "You'll not find an easier-to-use more effective user-friendly deer call anywhere than the new Big Buck Grunter Deer Call by Primos Hunting Calls.
One of the most effective calling sequences to attract a big buck is to make a few buck grunts, followed by a doe-in-estrus bleat or two. This simulates a doe that is ready to breed accompanied by a buck. It will attract other bucks to investigate.
To reproduce these sounds correctly generally requires fumbling around with two different callers. But not with the Big Buck Grunter Deer Call--all you have to do is make a grunt or two, then push the black button and instantly make the estrus bleats. A perfect sequence comes out every time! It's a very easy to use foolproof, versatile, effective call that's right for anyone in any situation."
Big Buck Grunter
Model No. 722
by Primos Hunting Calls

Deer Call Makes Every Deer Sound Including the Effective Grunt/Estrus Bleat
Very simple-to-use, innovative
call that makes all the social calls of deer from deep buck grunts to doe-in-estrus bleats to fawn bleats in volumes from
super low to very loud.

Makes the Super-Effective Grunt/Estrus Bleat call perfectly without changing reed settings... simply push the black button!

Volume of call is fully adjustable (loud to very soft) by controlling the amount of air inhaled... simple to use.
Adjustable "O" ring creates a wide range of grunting sounds (dominant buck, buck, and doe), plus doe-in-estrus and fawn bleats.
Inhale activated...reed will never stick in hot weather or freeze-up in cold weather.

Built in compass included.

Lanyard included.
Price: $16.99
ORDER