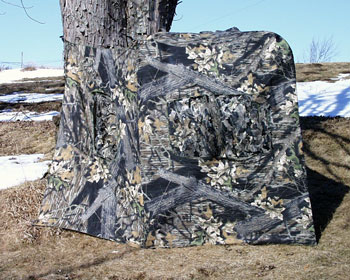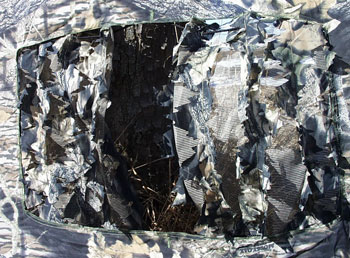 Read about the advantages of a ground blind
Review a larger blind
Review blueprints to build your own blind

The Turkey Pro Sez: "Until now, there hasn't been a full coverage, light weight blind on the market for gun hunters. A Boss Tom Portable Blind by Shelter-Pro has all the features that a gun hunter needs. Especially in the earlier part of spring season, you will feel like you are naked out in the woods when doing battle with the sharp-eyed gobbler. This in spite of the full camo clothing you're wearing. This blind will totally conceal your body and any movement you need to make....operating friction calls, adjusting your gun, uncramping your butt, eating lunch and so on. It will give you the confidence and patience to stay in one spot for an hour or more because you know you haven't been seen. And...with Mossy Oak Break-Up Camo, you'll blend into any environment. Hunt more comfortably and with more success with a Boss Tom Portable Blind"

Boss Tom Portable Blind
by Shelter-Pro

A Quick, Light, Effective Blind
Especially for Gun Hunters
Great for gun hunters

Fast set up in 10 seconds

Ties around tree with elastic strap, with 5 ground stakes for secure positioning. Fits snugly around tree
Four adjustable 12" X 14" see-thru, silent opening Slide-Drape windows

Aluminum poles

Polyester material in Mossy Oak Break-Up Camo

Dimensions: 48" high, 10' long

Weight: 2 pounds
Discontinued by
Manufacturer
For Informational Purposes ONLY