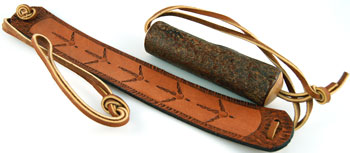 The Turkey Pro Sez: "The Gobbler Hauler by Russell Koxlien is a simple, effective, and most importantly, comfortable way to haul your gobbler out of the woods. For years I have used a hand-crafted nylon strap with leather thongs on each end to carry my gobblers out of the woods....The Gobbler Hauler, designed similarly, is by far the most comfortable way to carry a 20 pound, or heavier, bird any distance.
Put your bird's head through the thong on the handle end, slide the handle tight against the head, and then tie the legs together with the other thong, and presto you have a sling with a turkey attached with a handle to hang on to. Put the leather strap over your shoulder, and you can easily carry the bird under your arm long distances without fatigue.
This is a unique, cleverly crafted, high-quality item that is easily carried in your vest or pack, is the very best system to handle carrying a big bird out of the woods, and could easily become a family heirloom to hand down to someone in the next generation."

Gobbler Hauler
by Russell Koxlien

A Comfortable and Unique Turkey Tote
The simplest, easiest, most comfortable way to carry your trophy gobbler

11.5" X 1.5" hand-tooled cowhide leather strap with 5 turkey tracks

High Quality handcrafted and hand-tooled workmanship

5" finished willow handle

Strong leather thongs
Price: $25.99
ORDER
Check out the Turkey Tool, another handy item for turkey hunters.