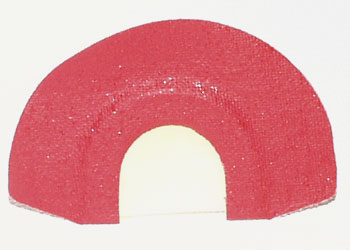 Listen to 22 seconds of kee-kee runs, yelps, & purrs
Listen to 8 seconds of kee-kees and kee-kee runs
Listen to 8 seconds of yelps
Listen to 6 seconds of purrs

Read about the advantages of mouth calls
Learn to use a mouth call

Learn How to Make Your Own Mouth Calls
Learn How to Protect Your Mouth Calls

The Turkey Pro Sez: "This is the perfect call to use when first learning to operate a mouth diaphragm caller

I use this call in the spring to make kee-kees, and kee-kee runs which will often make a gobbler respond to those "lost turkey" sounds. It's a great call in the fall too.

Jim Clay, owner of Perfection Turkey Calls,

has kept "Perfection" as the standard since founding the company in 1971".
PERFECTION MOUTH CALLS
STANDARD Frames
are hard to find ... buy here:
Perfection Selection
- includes Regular Red, Super Double D, 3-D Omega

$21.99
ORDER
Regular Red -
red tape - single reed
$7.49
ORDER
Super Double D-
blue tape - double reed
$7.99
ORDER
3-D Omega -
brown tape - triple reed
$8.99
ORDER

---

Cut 'n Rasp Standard Frame -
$7.99
ORDER
Raspy "D" Standard Frame -
- double reed
$8.49
ORDER
Piggy Back - double reed
$9.49
ORDER
Set Back - double reed
set-back for easiest raspy
calling
$8.49

ORDER
"Batman" - double reed
$8.99
ORDER
PERFECTION Friction CALLS

Custom Slate 'n Glass
Limited Quantity

$39.99
ORDER
Custom Box Call
$39.99
ORDER

---
PERFECTION MOUTH CALLS
MINI Frames
are hard to find ... buy here:
Perfection Mini-Frame
Collection - includes
Cut N' Rasp, Raspy "D",
Super Double "D"

$19.99
ORDER
Cut N' Rasp Mini-Frame
- triple reed
$7.49
ORDER
Raspy "D" Mini-Frame
- double reed
$7.49
ORDER
Super Double "D" Mini-Frame
- double reed
$7.49
ORDER
3-D Omega Mini-Frame
- triple reed
$7.49
ORDER
Perfection Turkey Calls
by Perfection Turkey Calls
The World's Finest
Mouth Yelpers
Red Single Reed Call,
Super Double "D"
3-D Omega
Raspy "D"
Cut 'n Rasp
Piggy Back
Set-Back
MINI: Cut 'n Rasp Mini
Raspy "D" Mini
Super Double "D" Mini

| | |
| --- | --- |
| Super Double "D" | 3-D Omega |
| Raspy "D" | Piggy Back |
| Set-Back | Cut 'n Rasp Mini |
| Raspy "D" Mini | Super Double "D" Mini |
| 3-D Omega Mini | |
Easy to Blow, Especially for beginners

Makes excellent kee-kee, kee-kee run, purrs, whines smooth-voiced and high-pitched yelps

Quality is assured through an 11-step, hand-tuned manufacturing process

Made from safe, premium quality materials

Protect your mouth calls, improve their tone, and produce perfect sounds instantly with a Mouth Call Saver