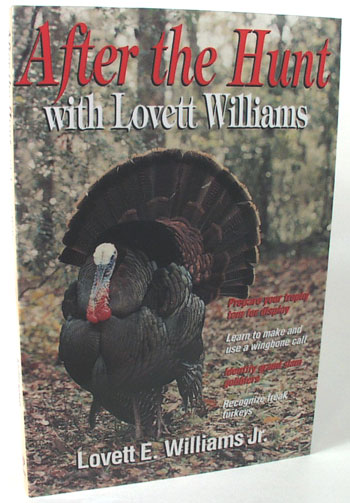 NOT AVAILABLE IN MOST STORES
Read
about how to learn all you can about turkey hunting
The Turkey Pro Sez:
"
Dr. Lovett E. Williams, Jr.
, widely recognized as one of the country's leading wild turkey biologists, is a turkey pro's

PRO

.

His knowledge of wild turkeys through his extensive research and hunting is unmatched.

After the Hunt

is another of his great books that all serious hunters should have as a reference.

It's an easy read, and full of information about the turkey and its' hunting that most hunters are not familiar with.



Lovett uses his perspective as a wild turkey biologist to help you understand the unique differences in turkeys and their behavior.

This knowledge alone will make you a better hunter.

He uses his hunting experience to show you how to find turkeys and how to prepare them for display and the table.

As a naturalist, he helps you appreciate the wild turkey and its surroundings.



I found the easy-to-follow instructions on how to make a wingbone yelper and how to use it to create great turkey talk, especially helpful.

Making a wingbone from a bird you bagged is a great project, and Lovett makes it easy to do.

I think you'll find it difficult to put this book down, because it will open your eyes to things you never knew about wild turkeys before.

You'll become a better hunter after reading it, and be able to plan your Grand Slam hunt too!

If you want to outwit turkeys all the time and become a Master Turkey Hunter, study this book carefully....you won't be disappointed …

Guaranteed!

"

After the Hunt
by Dr. Lovett E. Williams, Jr.

The Serious Turkey Hunter's Guide to Grand Slam Hunting,
Understanding Turkeys,
After-The-Hunt Activities
and Much More
A definitive reference written by Dr. Lovett E. Williams, Jr., one of the country's leading turkey biologists and hunters

256 pages--soft cover
Fully illustrated with photos

Solid Turkey Hunting
Knowledge
in 8 fact-filled chapters:

1. Grand Slam Hunt Planning and
Tactics ... including Mexico
2. Understanding Trophy Gobbler
Behavior
3. Trophy and Unusual Physical
Characteristics of Turkeys
4. How to Make Parts of Your
Trophy Into Useful and
Decorative Items
5. How to Skin and Care for Your
Trophy for the Taxidermist
6. How to Make Wingbone Yelpers
and Use Them to Call Gobblers
7. How to Photograph Turkeys and
Produce Audio Recordings
8. How to Dress and Cook a Turkey
Fully illustrated with over 200 photos...including color section of sex and identification photos of all sub-species of wild turkeys

Dr. Lovett E. Williams, Jr. holds a Ph.D. in wildlife ecology, pioneered the use of radio telemetry in wildlife research, has authored six books on wild turkeys, is an expert on wild turkey behavior, their vocalizations, and hunting. He recently has become involved in hunting and studying the Gould's wild turkey subspecies in Mexico
Must Reading for serious hunters!

Price: $15.99
ORDER