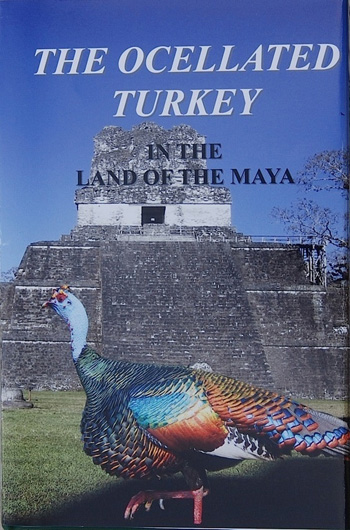 NOT AVAILABLE IN STORES
Read about how to learn all you can about turkey hunting
The Turkey Pro Sez: "For years, I have been an avid reader of all that Dr. Lovett Williams, Jr. has written about wild turkeys and their hunting and now that includes "Pavo". This book is so comprehensive I personally have one for my private library and one for my ranch house. Dr. Williams, one of the leading wild turkey biologists in the U.S.A., and probably Mexico as well, has spent over 1,000 hours meticulously documenting the hunting of Pavo and makes the hunt come alive with over 100 color illustrations. Dr. Williams has also enhanced the ease of reading by choosing a comfortable font . What a pleasant surprise.
NEWLY RELEASED DVD...

click image to enlarge


"Meet the Ocellated Turkey".
A color video DVD about hunting the ocellated turkey in camps deep in the jungle of northern Guatemala. The DVD includes sex and age ID, recordings of 13 of the ocellated turkey's calls, the ocellated turkey's biology & environment, a calling method, some of the animals of the rain forest, and thorough account of the ocellated turkey's courtship behavior in full color video. Produced and narrated by Lovett Williams.
Price for DVD $18.99 ORDER

The Ocellated Turkey in the Land of the Maya
by Dr. Lovett E. Williams, Jr. Erick Baur, and Neal Eichholz

The Hunting of "Pavo" - 1,000's of hours Studying, Recording & Photographing
in the rain forests of Mexico and Northern Guatemala
A 150-page hard-back book about the ocellated turkey and its hunting by Lovett Williams, Erick Baur, and Neal Eichholz.

Includes over 100 color illustrations.

First chapter
~ is an account of Lovett's first hunt for "Pavo," as the ocellated turkey is called by the natives who live with it.

Second chapter and the longest chapter
~ covers the natural history, physical features, biology, and behavior of the ocellated turkey.

Also included
~ hunting techniques
~ preparations for hunting pavo
~ a calling method
~ discussion of the ocellated
turkey's voice and 14 of its
calls
~ animals of the rain forest
~ a conservation and
management program involving
trophy hunting.
~ the breeding season behaviors
of the species are covered in
detail.

Must Reading for those wanting to learn from the best ocellated turkey hunters !
Price for Book: $27.99
ORDER