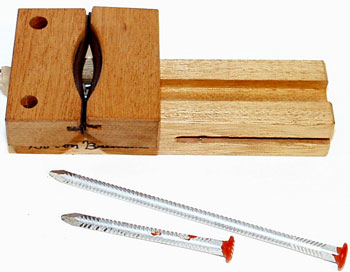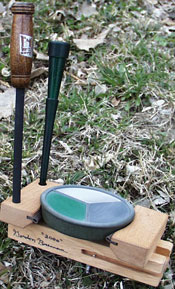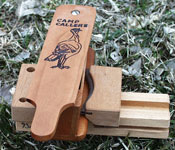 The Turkey Pro Sez: "Every turkey hunter who uses a friction call needs a Call Caddy! It is a foolproof device that anchors in the ground with a small stake, and it securely holds your call solidly so it can be operated with just one hand.
Your other hand should be on your gun! It's nearly impossible to operate a friction call and ready your gun for a shot when a gobbler is closing in and can see your position. With a Call Caddy, you can keep on calling with your sweet-sounding friction call, and have your gun positioned on one knee with your other hand.
You'll still have to stop calling and get your other hand on the gun to shoot, but a Call Caddy allows you to remain motionless, with gun ready, and still make those important last minute clucks, purrs, and yelps that will draw a bird into range.
This is a much needed device for the growing number of turkey hunters who choose to use friction calls."

Call Caddy
by Gordon Brennan

Ground-Mounted Universal
Turkey Call Holder

Designed to hold your favorite box or friction call in position so it can be operated with only one hand.

Allows for one-handed operation of your call. Quick and easy to use.

Rubber bumpers hold any call securely, without damage, while unit is anchored in the ground.

Made from high quality mahogany.
Two built-in holes to hold strikers. Two ground stakes included.

Fits calls with width up to
3 3/4".
SOLD OUT ...
For Informational
Purpose Only