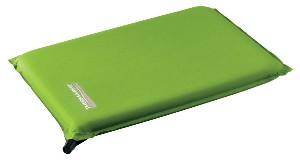 Read about how to use this product to bag more turkeys
The Turkey Pro Sez: "I discovered this cushion technology over 20 years ago after searching long and hard for a good quality, comfortable cushion that was lightweight. No cushion on the market even comes close to a Therm A Rest for comfort, features, and dependability.

Therm A Rest invented the self-inflating technology. Believe me, the Trail Seat is difficult to find too! If you own a turkey hunting vest, I recommend that you replace the foam cushion in it with a Trail Seat. You and your butt won't be sorry! For less than $20.00 you've got a seat that will last a lifetime.

Therm A Rest
Self-Inflating Trail Seat
by Therm A Rest

World's Finest Cushions
Self-Inflates with one breath

Comfortable--will support any person on cushion of air

Featherweight: only 6 ounces

Measures: 12" X 16" X 1.25"

Stays rolled up for easy carrying in your vest, pocket, or pack.

Firmness is adjustable with valve

Spring green

Lifetime Warranty

Discontinued by Manufacturer
For Informational Purposed ONLY