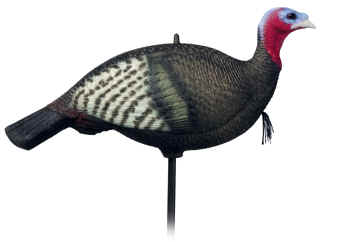 Learn more about decoys
Learn decoy tricks and how to use jake decoys safely
Learn decoy tricks for bow hunters
The Turkey Pro Sez: "Talk about realistic! These Supreme Jake Decoys from Delta Industries should be the last jake decoys you'll ever need to buy! Why? Because they are the highest-quality, best featured, most realistic decoys made...period. I know because I was previously employed at Delta Industries. I am personally familiar with the manufacturing processes and quality control of this product. Also, I know the competitive brands well. Without any reservation, I can recommend and guarantee these decoys above all others for quality, for being able to lure in gobblers and for their ability to stand up to abusive treatment (I'm not easy on things)! With Supreme Turkey Decoys, all you need to do is decide whether to roast or barbecue your gobbler...there's no question you'll get one!"
Safety Tip: Be very careful when using a jake decoy, especially a super realistic-looking one like this. Other hunters in the area will likely mistake this for the real thing, so when you know others are in the area, be super careful or don't use a jake until you think they have left the area.

Pro Hunter Jake
Collapsible Turkey Decoy
by Delta Industries

Most Realistic Decoy Made
Life-sized--three dimensional

Made from new state-of-the-art, virtually indestructible material

Superior, molded feather detail, realistic colors, permanent bronze sheen paint, including beard

Fully Collapsible

Weight: 14 ounces

2-piece plastic stake
Discontinued by
Manufacturer

For Informational
Purposes Only