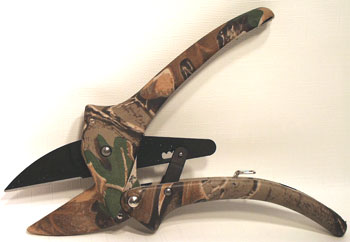 Read about how to use these when setting up
The Turkey Pro Sez: I won't go to the woods without ratchet-cutters in my pack.

They're so simple and easy to use, not to mention SHARP, you'll be done cutting the brush around your set up in a flash. Although most ratchet-cutters advertise as able to cut limbs up to 3/4", I routinely cut brush slightly over 1" in diameter.

Ratchet-Cut Pruners

Powerful Ratchet-Cut action
cuts branches up to 3/4" with remarkable ease.



Discontinued Product
For Information
Reference ONLY