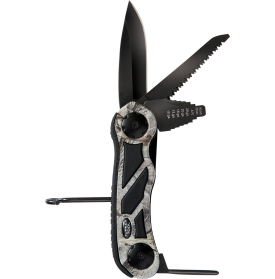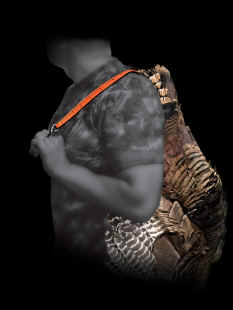 Above - Fully Open Turkey Toter

The Turkey Pro Sez: "The Turkey Tool by Real Avid has everything a turkey hunter will ever need in the field….period. This economically-priced new product was specifically designed for turkey hunters, and is the only one of its kind on the market. It easily replaces many of the usual tools that a Master Turkey Hunter might carry to the woods….at a fraction of the weight and bulk. Its rugged looks, and quality construction, will give you a life time of use. It's a perfect gift for any turkey hunter too.
The sharp 440 stainless steel drop-point blade is the perfect size for cleaning a turkey. The brush/game saw quickly and quietly handles trimming of tree limbs and saplings, plus it makes fast work of cutting bone. Any shotgun choke tube is quickly removed or installed with the 6 wrenches (10, 12, 16, 20, 28 ga. & .410 gauge sizes). The standard-sized gun pin punch quickly removes trigger and receiver groups on shotguns. A folding 15" ruler / turkey toter strap handles the job of measuring the bird's beard and spurs.

And, finally, the heavy nylon Toter Belt Sheath converts into a turkey tote when you are ready to walk your turkey out of the woods. The sheath opens up into a tote, featuring a heavy nylon on one end for the turkey's legs, and the other end has a sturdy "C-hook" in the Turkey Tool handle, resulting in an easy over-the-shoulder carry.

There is no easier way to carry your gobbler out of the woods than over your shoulder with the turkey tote feature of the Turkey Tool.

It's a great, innovative product that you won't want to be without in the turkey woods."

Turkey Tool
by Real Avid

The Ultimate Turkey Hunter Multi Tool
12 Essential Tools for Turkey Hunters:
- 3 ¼" Drop Point Knife
- 3 ¼" Brush/Game saw
- Universal Choke Tube
Wrenches (.410 to 10 gauge)


- 15" Beard/Spur Ruler
(in 1/8" increments)
- Carry Hook & Turkey Tote

Black Nickel-Coated Stainless Tools

Rubberized, Camo Handle,
Rubber side grips

Camo Sheath with Belt Loop

Ingenious Turkey Tote Sheath converts from a sheath holster to a turkey tote

Detailed Instructions included for each tool

Weight: 9 ounces

Dimensions: 4.5" X 1" X 1.25"
OUT-OF-STOCK

Check out the Ultimate Gun Tool, the companion to the Turkey Tool.