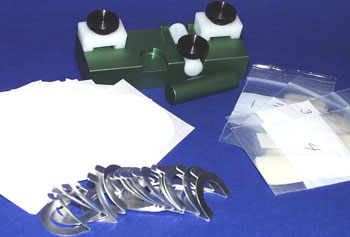 Top to bottom... Kit includes jig, tape, Latex and frames.
The Turkey Pro Sez: "I recall one of my favorite mouth calls. I had it for a few years, and it had started to tear on one side. It made the best turkey talk you can imagine in that condition. It finally tore too much, and became useless. If I would have had a Call "Purr"fect Turkey Call Kit then, I could have made a duplicate of the call in that "perfect" condition.
This product is designed to let you manufacture your own mouth calls, making them precisely like you want, producing just the right sound for you. With just a bit of practice, you will be manufacturing precision calls to your specifications.
You will be able to duplicate the call design of your choice, time after time, save money, and have the satisfaction of calling up Mr. Big with a call you made yourself ! And, if you choose, you can crank out a few for your friends too."

CALL "PURR"FECT
TURKEY CALL KIT
& Latex Refill Kit
by South Central Manufacturing Corp.

An Easy-To-Use Kit To Make
Your Own Custom Mouth Calls
An innovative system to manufacture your own custom designed mouth calls.

Quickly, easily build calls at a substantial savings.

Kit comes with enough components to build 13 calls with one, two, three, or four reeds each.

Very easy to use. Complete instructions included.

Kit includes jig, frames, tape, and latex.

Latex Kit Refill - sold separately. Includes frames, pre-cut adhesive and 52 strips of Latex ( 0.0025" thickness ) to make 13 mouth calls.