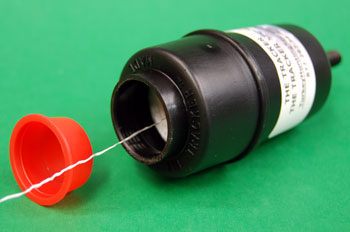 THE TRACKER™ - mounts on all bow types
If needed .. Call for Technical Assistance 877.267.3877

Read about the necessity of using a tracking unit
Read about recovering your turkey
The Turkey Pro Sez: "I have trusted THE TRACKER™, a Professional Game Tracking System, to help me retrieve turkeys, deer, and elk for many years. You will find that a turkey is a tough animal to drop in its tracks unless a vital hit is made, and deer, elk, and hogs are equally tough to recover when hit in non-vital areas.

Since vital areas are small, you don't always put an arrow where you want it to be. For example, when using any style of broadhead, if a turkey is not dropped in its tracks, it will run or fly away, and usually leave no sign to follow. Recovery is nearly impossible. Deer, elk, and hogs will often travel a good distance even with a vital hit, and with a non-vital hit, the distances traveled before they hole up can be quite long, with often little or no blood sign to follow. With THE TRACKER™, you simply follow the line to your quarry.

THE TRACKER™ works nearly all the time. However, sometimes a line will break, particularly if your arrow didn't do much damage and your game wasn't hit hard. When a wounded animal is strong enough to struggle against the line, a line can break. The good news is you do have a good deal of line to follow to know exactly the path the animal took as it escaped, and you can evaluate any blood or other sign along the path to help determine where your hit may have been, thus giving you important clues needed to continue the search for your trophy.

To get a quick second shot if you miss the first, you should mount a second tracker to your bow, or tape another tracker to the first one, tying its line to a second arrow in your quiver. I have often used this method to bag a gobbler or deer that I missed with the first arrow. I always want to have a line to follow with every shot.
How to select the right line strength...

I'm often asked about which strength of line to use - 17# or 30#. It depends on circumstances and personal preference.
My advice
purchase both #17 & #30 strengths of line

practice with each

decide which is best for you and your application
I always use the 30# line because its breaking point is much higher than the 17# line, and my bow shots are within 20-25 yards, thus the heavier line has no impact on the arrow's trajectory.

When shooting at longer ranges, be sure to practice and see if the heavier line affects trajectory....if it does, adjust your sights accordingly or use the 17# line. Even a small animal, like a turkey, will eventually stretch and break the line if it isn't hit very hard.


THE TRACKER™ &
THE TRACKER SPOOL™
by TurkeyHuntingSecrets.com
( formerly Gametracker,
Eastman/Carbon Express )
Order Table Below
New & Improved !
Professional Game Tracking System
for All Bows and Crossbows

Replaces

Eastman/Carbon Express & GameTracker Models 2500 and 3000 Professional Game Tracking Units
Includes one spool of highly visible 17# or 30# test weight line and canister to hold spool.

Large line-exit opening delivers flat arrow trajectory to 30 yards and beyond when canister is installed properly.

Line attaches securely to arrow behind broadhead or field tip by following included instructions.

Canister includes stud bolt for mounting in stabilizer hole of bow. Provided red plastic stopper keeps line from accidentally playing out when not being used.

Before using in the field, take several practice shots after installing a new spool of line, and follow included instructions.

Detailed Instructions
Included
* Covering practice
* Attaching line
* Things to do before the shot
* Mounting THE TRACKER™ on
all types of bows, and
* TIPS on tracking and finding
your trophy.
CAUTION:
DON'T listen to other YouTube videos
Call for OUR Technical Assistance 877.267.3877

Non-hunting uses for this product include
~ recovery of model planes and
drones stuck in trees
~ laying down paths for stringing
antenna wires
~ remote device activation
~ urban deer removal projects
~ tracking and research of
marine mammals, fish,
amphibians, and other wildlife.

Remember to buy
EXTRA Tracker Spools of 17# or 30# line

Made in the U.S.A.
THE TRACKER SPOOL™
If needed .. Call for Technical Selection Assistance 877.267.3877
17# & 30# White
17# & 30# Orange
by TurkeyHuntingSecrets.com

17# White spool
Sgl - $ 8.99 ORDER
2 PAK $ 13.99 ORDER
5 PAK $ 29.99 ORDER

17# Orange spool
Sgl - $ 10.99 ORDER
2 PAK $ 17.99 ORDER
5 PAK $ 42.99 ORDER

30# White spool
Sgl - $ 8.99 ORDER
2 PAK $ 13.99 ORDER
5 PAK $ 29.99 ORDER


30# Orange spool


Sgl - $ 10.99 ORDER
2 PAK $ 17.99 ORDER
5 PAK $ 42.99 ORDER


SAMPLER PAKS

White Samplers
2 PAK White Sampler
$ 13.99 ORDER
1 ea 17# & 30#

white



4 PAK White Sampler
$ 25.99

ORDER
2 ea 17# & 30#

white

Orange Samplers
2 PAK Orange Sampler
$ 17.99 ORDER
1 ea 17# & 30 #

orange



4 PAK Orange Sampler
$ 33.99 ORDER
2 ea 17# & 30 #

orange



Mixed Samplers
4 PAK Mixed Sampler
$ 29.99 ORDER
2 ea 17#

white

,

17# orange

6 PAK Mixed Sampler
$ 42.99 ORDER
2 ea 17# & 30#

white

&
17#

orange



8 PAK Mixed Sampler
$ 59.99 ORDER
2 ea 17# & 30#

white

&
17# & 30# orange

ACCESSORIES
~ PicatinnyRailMountingKit™
~ Crossbow Mounting Kit™
~ The Tracker Clips™
"Discount Alerts"
If needed .. Call for Technical Assistance 877.267.3877