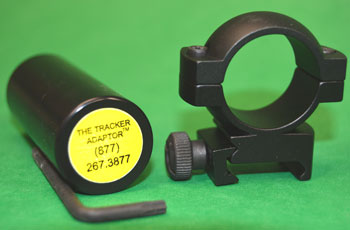 THE TRACKER™
Crossbow Mounting Kit™
3 Piece Kit -
~ THE TRACKER™Adaptor ~ Adaptor Ring™
~ Torx Key ( T15 tip size )
ORDER $19.99

___________________________________
BELOW - THE TRACKER™ mounted on Picatinny Rail on front and bottom side of crossbow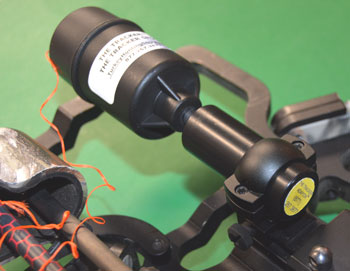 BELOW: - wider angle of above photo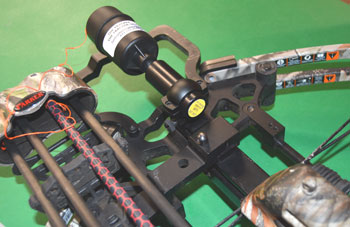 Read about the necessity of using a tracking unit
Read about recovering your turkey or other game
The Turkey Pro Sez: "With the increasing popularity of crossbows, customers have been asking for a way to mount THE TRACKER™ Professional Game Tracking System to their crossbows. Before we introduced the Crossbow Mounting Kit™, there wasn't a good, easy, solid, and effective way to do so. NOW THERE IS !
THE TRACKER™, was designed to be attached to the stabilizer mounting hole of compound and recurve bows with the bolt that is molded into the canister - crossbows aren't equipped with such a connection point.
To remedy this situation, we developed THE TRACKER Adaptor™, which accepts THE TRACKER™ canister bolt, then it simply slides inside the Adaptor Ring™, which attaches to the Picatinny Rail that is found on many current crossbow models.
In the event your crossbow does not have a Picatinny Rail system, it is quite simple to install a short piece of it to an appropriate location on the front portion of a crossbow, typically on the bottom or side of the forend grip of the weapon, or possibly at another location. Picatinny Rail accessory material is available at gun and archery retailers or contact the manufacturer of your crossbow.

To get a quick second shot if you miss the first, you can easily mount a second tracker to your crossbow in another location by attaching an additional piece of Picatinny Rail material to the bow and attaching a second Crossbow Mounting Kit™. Tie the line from the second tracker to an arrow in your quiver for a quick second shot. I have often used this method to bag game that I missed with the first arrow. I always want to have a line to follow with every shot."
THE TRACKER™ Crossbow Mounting Kit™
NEW for 2018!
by TurkeyHuntingSecrets.com
Everything you need
to easily mount
THE TRACKER™ Professional Game Tracking System
to a crossbow.
Kit includes:
~ THE TRACKER™Adaptor
- 1" diameter, 2.5" long,
offset drilled hole - .75" deep
~ Adaptor Ring™ - 1" diameter
~ Torx Key (T15 tip size)
~ Detailed Mounting instructions

Designed to only fit crossbows equipped with a Picatinny Rail System.
TIP: It is simple to install
a short piece of Picatinny
Rail to a crossbow that did
not originally come with a
Picatinny Rail.

How To Mount and Install the Kit:
1. Attach THE TRACKER™ to
THE TRACKER Adaptor™
2. Attach Adaptor Ring™ to the
Picatinny Rail on the crossbow.
3. Insert THE TRACKER
Adaptor™ into Adaptor Ring™
and Position it.
4. Tighten set screws.
5. DONE

Detailed Instructions Include:
~ Mounting the kit to a crossbow
~ Canister positioning
~ Attaching line to an arrow
~ Things to do before the shot
~ TIPS on tracking and finding
your trophy.



Order
THE TRACKER™ and SPOOLS below:
THE TRACKER Spool™