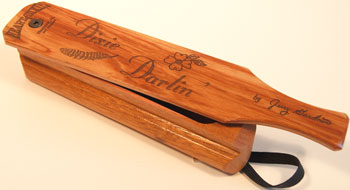 Listen to 12 seconds of yelps
Listen to 8 seconds of clucks
Listen to 7 seconds of cutts

about the advantages of a box call

The Turkey Pro Sez: "You'll not find a more handsome, better sounding, custom made compact box call, this reasonably priced. A Dixie Darlin' Custom Box Call by Heart of Dixie Game Calls, is an example of fine craftsmanship by veteran Call Maker, Jerry Gardner.

If you appreciate fine craftsmanship and great sound in a small size, you need to try this custom built call. But don't let the small size fool you...it creates all turkey talk perfectly at all volume levels.

I especially like the great double-note yelps and clucks it makes. When I first got my hands on a Dixie Darlin', I couldn't stop playing it. Every note came out perfect, sounding like a medium raspy hen's voice every time. One of the secrets of the excellent tone is the combination of a mahogany box and tulipwood lid...this rare combination perfectly duplicates the voice of a real hen turkey.

Another secret of its' great tone is the innovative design of the box. It is crafted from a single piece of solid mahogany, allowing for an indented groove to be cut into each side of the box, which provides a natural place to hold the call. This solid gripping area permits the hunter to maintain absolute control of the sound coming from the call. You can grip it tightly, or loosely, and the same tone comes from the call. It is also great for anyone with smaller hands.

Most other box calls are made from pieces of wood glued together, are rather delicate, and will change tones based on the amount of pressure that is put on the base while playing it.

This baby is solid, has been precisely tuned, and will stay in tune with a small amount of maintenance. It will soon become one of your favorites....you will be thrilled with a Dixie Darlin', like I was."



Dixie Darlin' Tulipwood &
Mahogany Custom Box Turkey Call
by Heart of Dixie Game Calls

An Innovatively-Designed Box Call
With Outstanding Sound

A value-packed, compact, custom made box made from 100-year-old select grade mahogany, ergonomically designed, crafted into a handsome and great sounding caller.
Lid is made of Brazilian tulipwood, one of the most beautiful, and best sounding woods in the world.

Body of box is made from a solid piece of 100-year-old select grade mahogany.

Ergonomically designed to be comfortable to hold, enabling the hunter to produce excellent tones. The solid construction will take a lot of abuse and keep on producing excellent turkey talk.

Detailed laser engraved etching of a turkey wing feather and dogwood bloom on the lid.
Individually hand tuned to perfection.

Dimensions: : 7" long box, base of box 1" wide, 9" X 1 3/4" lid, 1 3/4" tall. Silencer elastic strap included.

Very compact call that produces exceptional double-note yelps, fairly raspy, like the real adult hen herself.

Superb yelps and clucks at all volume levels.
SOLD OUT