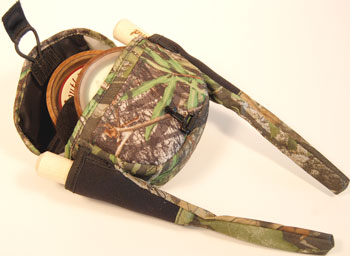 * Strikers and call shown above can be purchased
separately.

The Turkey Pro Sez: "Every turkey hunter needs a case to protect a slate, glass or aluminum call from moisture, dirt, grim, scratches, hand prints, and the messy M & M hands of little kids.

Your calls are like musical instruments...when tuned, they should be kept in a secure environment. Down in the bottom of your turkey vest, where th
Here is a collection of weed seeds, dirt, candy wrappers, and other junk, is not the place.
This Friction Call Case by Ol' Tom has been specially developed to pad and protect those delicately-tuned calls. I always tune my friction calls before each day's hunt and put each away in one of these cases".


Ol' Tom Friction Call Case
by Ol' Tom

Protect Your Friction Calls
An economically-priced firm friction call case for round
shaped slate, glass, and aluminum friction calls

Protect and Preserve the surface of friction calls from scratches, abrasion, dirt, grim, and moisture

Water-resistant in New Mossy Oak Break-Up Camo.

Two separate compartments for round friction calls with diameters up to 4".

Includes 1 ˝" belt clip and a swivel snap-hook for secure attachment to any turkey vest

Two side sleeves for holding strikers.

Easy access storage pocket for sandpaper or Scotch-Brite™