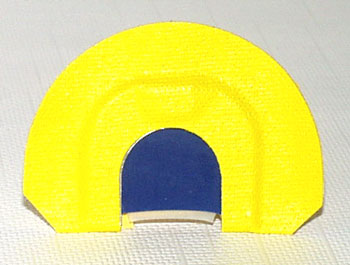 Listen to 20 seconds of clucks, yelps, & cutts
Listen to 5 seconds of clucks
Listen to 9 seconds of yelps
Listen to 6 seconds of cutts

Read about the advantages of mouth calls
Learn to use a mouth call


Learn How to Make Your Own Mouth Calls
Learn How to Protect Your Mouth Calls
The Turkey Pro Sez: "Other equally high-quality Custom, Hand-Tuned mouth calls are available from

Perfection Mouth Calls
Heart of Dixie Game Calls

I highly recommend these brands and have used them for many years. All are made of the finest materials and last me for several years of hard use. Click links above to view the numerous models available of these excellent mouth call brands I use. Buy quality, and you won't be disappointed."

2 Reed Split Custom Mouth Call
by Yellow Yelpers

For Informational
Reference Only

View other calls here:
Mouth Calls Department

Perfection Mouth Calls
Heart of Dixie Game Calls