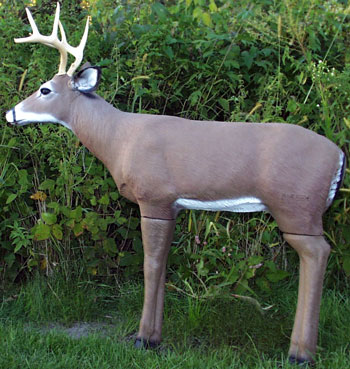 Above - Deer Decoy Assembled
Below - Ready to Transport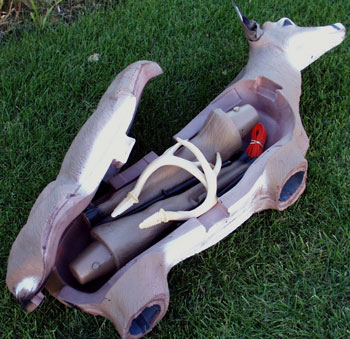 Legs, antlers, and stakes are stored inside decoy's body when transporting. To be safe, use orange carrying strap.

The Turkey Pro Sez: "WOW--Talk about Real"! A Deer Decoy from Delta Industries may be the icing for your deer hunting cake! Why? Because it is the most effective, highest-quality, and best featured deer decoy on the market.
Deer can often be lured in with a decoy...both bucks and does. Deer are quite curious and will often walk right up to a realistic decoy to investigate. Position your decoy so it is broadside to your location. Deer usually approach a decoy to touch noses or to smell its rear. This positioning will give you a good broadside shot at the approaching deer.
I almost always use a decoy around my stand. Early in the season, before rut, I will use it in the "buck" mode, with antlers attached. Other bucks are still in their bachelor groups and are attracted to other bucks for sparing and socialization. Once does are in estrus, I remove the antlers and use it in the "doe" mode. I often attach a small, scent-soaked white rag to its tail which helps attract bucks. You can also attach a piece of mono fishing line to the rag to twitch it from your stand. This twitching motion is often just the movement a deer needs to see to come marching right in quickly.
Delta's Deer Decoy is the most realistic and effective decoy on the market. And...I especially like the way all the parts are housed inside the body cavity for easy and quiet transportation. Try one....you're going to like it!"

Deer Decoy -
"The Pretender"
by Delta Industries

Most Realistic, Effective
Deer Decoy Available
Life-sized--three dimensional. Perfect body conformation, superior, realistic colors.

Removable legs and antlers for easy storage inside body cavity.

Ground stakes and blaze orange carrying strap included.

Carrying Dimensions:
47" X 14" X 11" thick.

Weight: 13 #.
For Informational Purposes ONLY
Discontinued
by Manufacturer