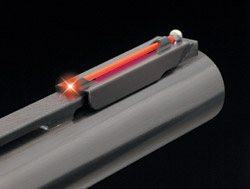 Above - Front sight
Below - Rear sight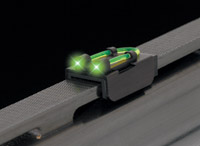 The Turkey Pro Sez: "This newly introduced Tru Point Turkey Fiber Optic Sight by TruGlo is perfect for turkey hunters. For years I have been waiting for a solid, simple-to-install super low profile optic sight to use for turkey hunting. This one has all the features I demand in a sight....excellent brightness, windage adjustment, ease of use, quality construction, solid mounting system, and above all else....super low profile and a small diameter optic fiber. All of these features are in this model.
Most other models have much larger fiber optics and have high mounting brackets, which will change the sight picture for the shooter. A large dot and a lot of sight hanging on top of the rib, obscures much of a turkey's head and neck, particularly at maximum range (40 yards or so). This tends to make it difficult to precisely aim the gun. It's easy to miss with this type of setup at longer ranges. At close ranges it probably doesn't matter what sight you are using, but you never know what range the shot will be.
If you want to remove the sight, it is fast and simple...the metal sights slide off the nylon liners quickly. You'll be very happy with a Tru Point Turkey Fiber Optic Sight."
Tru Point Custom
Turkey Shotgun
Fiber Optic Sight
by TruGlo
Special Turkey
Low-Profile Shotgun Sight


High quality metal fiber optic sight

Slide Lok Mounting System secures front and rear sight bases to vent rib

No screws,magnets, or tape required
Nylon liner slides over rib to protect it from damage

Lowest profile sight available

Contrasting red front sight and green rear sight
Rear sight adjusts for windage

Available in rib width: 6mm.

Measure width of your guns' rib before ordering