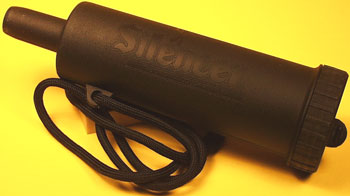 The Turkey Pro Sez: "NO HUMAN NOISE! That's exactly what I tell everyone who hunts with me while in the field. Human noise spooks more game than you realize. Coughing and talking can be heard for half a mile on a quiet day, and will also carry well downwind of your location on a windy day. I have watched trophy gobblers, bucks, and bulls immediately go on "alert" and walk or run away at the sound of coughing or talking.
When hunting, all of us have the urge to cough during the day and usually at the worse possible time....when the game is getting into shooting range. With a Cough Silencer, the unnatural sound of coughing will be silenced....and your game won't be spooked. I recommend keeping the device handy on its' lanyard around your neck. When you feel the urge to cough, simply put your mouth around the end of the device and cough away....barely a whisper of a sound is heard. This device is also great for anyone who does a lot of coughing in non-hunting situations...like around the house, at work, or in public places. Improve your hunting, don't spook game, and keep your surroundings quiet with a Cough Silencer! I do."

Cough Silencer
by Ellington & Rush

The Original Cough Muffler
Effectively reduces the loud noise made when coughing to a barely audible tone, thereby preventing turkey, deer, elk and other sharp-eared game from being alerted and spooking.

Captures germs spread by coughing. Great for anyone who wants to eliminate the noise of coughing and spread of germs.

Proven effective for coughs associated with asthma, colds, bronchitis, climate and humidity changes, allergies, exertion, and smoking.

Easy cleaning, with replaceable cotton ball baffles (not included).
Dimensions: 6"x 1.75".

Weight: 2 ounces.

Lanyard included.
Discontinued
by Manufacturer
For
Information Purpose ONLY