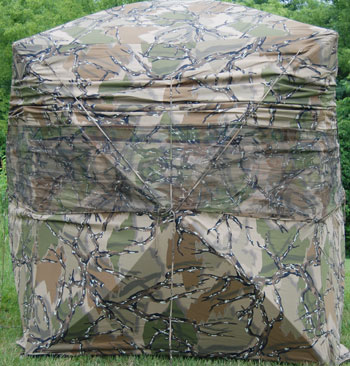 MADE in USA

Matrix 360 Ground Blind
by Double Bull Archery
Matrix Blinds
Discontinued by Manufacturer

We recommend
Rhino Ground Blind


Highest Quality, finest ground blind made. Proudly manufactured in the U.S.A.

Designed for consistent success for hunters who want the advantages of a full coverage blind and don't want a cheap, poor-quality imitation.

Highest quality cotton/poly non-reflective, quiet Predator Deception All Purpose camo material for superior invisibility in the woods and durability. Inside of material is black to keep interior of blind dark to hide movement of hunters.

Custom-designed, sewn, and fitted, resulting in superior quality and durability. With proper care, this blind will provide many years of excellent service vs. the imitator blinds, which are inferior in all respects.

Designed for hunting turkeys, deer, elk, antelope, waterfowl, photography and wild game observations.

With windows closed, human scent is controlled. Includes 5" ground flap to help seal in scent.

Fast set up in 7 seconds with simple pole/hub system.

Free standing, but staking and tying down is recommended. 4 wall tie down cords and 4 corner stake grommets included.
360 degree viewing/shooting window that opens to a maximum of 23" in vertical height. Four additional 7" X 9" shooting windows (with covering flaps) included.

Shoot-through mesh covering for entire 360 degree window can be quickly opened or lowered.

67" (5' 7") center height for Standard Blind or choose Extended Height Blind which is 74" (6' 2").

Choose standard fiberglass support rods, or super lightweight carbon rods.

Triangular shaped zippered roof window opens to allow ventilation, or for viewing or shooting.

Dimensions:
5' square floor space,
Standard model: 5' 7" tall
Extended height model: 6' 2" tall

Peaked roof to repel rain/snow.

Heavy-duty zipper door entrance.
Weight:
Standard (w/ fiberglass rods)16 #
Standard (w/ carbon rods) 12#
Extended Height (w/ fiberglass rods) 20#
Extended Height (w/ carbon rods) 16#

Carrying bag and strap included.


For Informational Purposes ONLY
Matrix Blinds
Discontinued by Manufacturer -
We recommend
Barronett Ground Blind
We recommend
Rhino Ground Blind
Read about the advantages of a ground blind
Review blueprints to build your own blind

The Turkey Pro Sez: "Years ago, well ahead of most hunters or manufacturers, I discovered the advantages of a ground blind for both turkey and deer hunting with gun or bow, and for photography. For a few years in fact, I manufactured and sold a specialty blind of my own design. Over the past several years, Double Bull Archery has earned a reputation as the premier manufacturer of high quality, effective blinds. Their newest model, the Matrix 360, incorporates all the features I demand in a high-quality blind. It meets my high standards for functionality, quality, features, and effectiveness.

A Matrix 360 is rapid to set up...about 7 SECONDS ! This is due to the clever pole/hub assemblies. All rods and parts stay in place and with a minute or two of practice, you can set it up in 7 seconds. I also like the Predator Deception All Purpose camo, which blends into any environment perfectly. The quality of construction and materials are superb....all made in USA. Properly taken care of, I doubt you could wear it out in a lifetime. There are many, many hub style blinds on the market now. You get what you pay for. I have experimented with lower cost models, and found them to be inferior and not worth even the low cost I paid. Why you ask? I have had the cheap models completely fade out in color...one in fact faded to a nice bright red color, a moderate wind would constantly break rods in another (which are next to impossible to replace), most have plastic hubs that easily break, and most are made from reflective and noisy material...something I detest. Finally, most of the cheap models are poorly thought out with respect to windows.....noisy zippers and Velcro, cheap zippers that break, and badly designed window placement and size.

Without a full coverage blind, a bow hunter has almost no chance to bag turkeys consistently. And...you won't believe how well a blind like this will contain your body odor when deer, antelope, or elk hunting. With a clean body, use of cover scent, and keeping the shooting windows closed until you're ready for a shot, the critters with a super nose will normally not detect you, even when they are within 20 yards. It also is excellent for waterfowl or dove hunting. Simply open the roof window and you can shoot easily in all directions, while your body is hidden.

We are offering four different models of the blind....the standard model with fiberglass rods, or with lightweight carbon rods. For those who want more height so they can stand up comfortably, or to shoot standing up, we offer the Extended Height Model with fiber glass or carbon rods.

The best thing about a Matrix 360 is its flexibility....you can configure the window systems to fit any style of hunting. If you want to shoot through the mesh material....no problem in any direction. If you prefer to shoot through a more traditional window, you have four to choose from. You can open a complete 360 degree window, with or without the mesh...open it just a little or more, however you want. I strongly suggest, however, that you open a window just enough to safely make your shot and try to keep the window behind you closed, because if you don't, you'll create movement which a turkey or deer can detect, and that may spook them. Keep movement to a minimum.

A Matrix 360 blind is great for taking people hunting who can't sit still....and it's great at keeping the cold, rain, and wind away, thus improving your ability to endure the long wait for game. Until you use a blind like this, you simply won't believe how well it works and how close game will come. Using a blind, my average shot at gobblers with bow and arrow is about 15 yards. Even with the great Predator Deception All Purpose camo pattern, I still recommend placing brush or tree limbs around the blind for further camo and to break the outline of the blind.

Set up your blind in a good spring strut zone and I promise you excellent results and plenty of turkey action! Same thing goes for fall deer hunting....big bucks pay little attention to a blind like this."