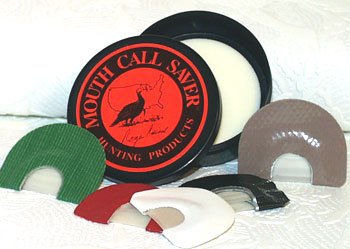 Mouth Calls NOT Included with Mouth Calll Saver
NOT AVAILABLE IN STORES

Price: $5.99 ORDER

Read about the advantages of mouth calls
Learn How to Make Your Own Mouth Calls

Do they break at the wrong time? Do you find it difficult to maintain a good quality tone and sound from a call, especially when you first put it in your mouth?
Pros have known the answers and the SECRETS for maintaining their calls in tip-top condition for years, but until I introduced the Mouth Call Saver, those SECRETS were closely guarded.
The Mouth Call Saver is guaranteed to put much more life and sound quality into your mouth calls.
Mouth call manufacturers don't mind when your calls wear out - you buy replacements. Even though we sell mouth calls, we want your calls to last as long as possible. Using a Mouth Call Saver, I get several years of good life from my calls and they are always ready to produce the best sound"

Mouth Call Saver
by Roger Raisch Hunting Products

An Easy, Foolproof System...
All in a Single Unit
Price: $5.99 ORDER