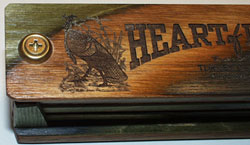 Listen to 11 seconds of yelps
Listen to 5 seconds of clucks
Listen to 14 seconds of cutts

Read about the advantages of a box call
The Turkey Pro Sez: "You'll not find a more handsome custom made compact box call this reasonably priced. A Camo-Walnut Custom Box Call by Heart of Dixie Game Calls, is an example of fine craftsmanship by veteran Call Maker, Jerry Gardner.
If you appreciate fine craftsmanship and great sound in a small size, you need to try this custom call. But don't let the small size fool you...it creates all turkey talk perfectly at all volume levels. I especially like the great double-note yelps and cutting it makes.
It has been precisely tuned, and will stay in tune with a small amount of maintenance. This call will soon become one of your favorites."
Camo-Walnut
Custom Box Turkey Call
by Heart of Dixie Game Calls

A Superb Box Call
With Outstanding Sound
A reasonably-priced compact custom box made from hand-selected walnut, with a camo-treated lid, crafted into a handsome and great sounding caller.

Detailed laser engraved etching of a gobbler on the lid. Slight camo pattern variations on each call.

Individually hand tuned to perfection.
Dimensions: 5 3/4" long box, 8" lid, 2" tall, with lid and base of box 1 5/8" wide. Silencer elastic strap included.

Very versatile caller that produces an excellent double-note, fairly raspy medium pitched yelp like the real adult hen herself.

Especially good yelps and cutts at all volumes.
Price: $159.99
ORDER
Few Remaining