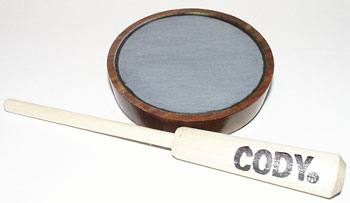 Listen to 11 seconds of clucks & purrs
Listen to 13 seconds of yelps
Listen to 14 seconds of cutts
Listen to 11 seconds of clucks & purrs with a Peruvian Walnut Custom Striker
Listen to 11 seconds of yelps with a Peruvian Walnut Custom Striker

Read about the advantages of a glass call
The Turkey Pro Sez: "Every turkey hunter needs a good slate call in his vest. This custom made Cody II slate model from Cody Turkey Calls is an example of fine craftsmanship by veteran Call Maker, Bill Zearing, owner of Cody Turkey Calls. He's a specialist at making the finest custom slate and glass calls available. His commitment to excellence is obvious when you get one of these in your hands and hear the sounds it produces. I especially appreciate the detailed instructions on the care, tuning, and handling of the product that comes with each call.
This call produces loud, medium, or low toned raspy double-tone yelps and cutts. When you bear down on the call, it produces high frequency tones, duplicating an excited, lost hen which really gets a gobbler's attention. It's also excellent for close work--soft clucks, purrs and yelps."
Cody II Custom Slate Call
by Cody Turkey Calls

A Superb Call That Sets
the Standard for Slate Calls
A modestly-priced custom made slate call & striker.

The base is made of a solid block of wood. The surface slate is sealed in place with a solid bead of high-grade silicon. Careful detail and skill are obvious in this great sounding caller.

Easy to use and perfect for anyone--excellent sounds, especially high , medium or low volume yelps with just the right amount of rasp and cutts.

A great finisher call to make soft yelps, clucks and purrs to draw a tom into gun range.
Dimensions: 3 3/4" diameter, 3/4" high

Pro's Choice recommended Custom Striker for this call
regular price: $49.99
Sale Price: $39.99

Out of Stock
for Fall Season