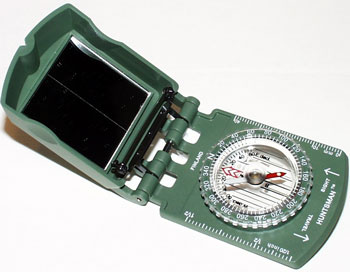 Read about how to find turkeys with a compass like this
The Turkey Pro Sez: "I have trusted Silva for years because they manufacture high-quality precision compasses in a variety of useful models.
The Huntsman model is one of their newest, and is fully featured for the hunter who wants to locate gobbling turkeys with topo maps.
Also can be used as an orienteering device, or for general use. A moderately priced professional compass. I especially like it because it can be pinned on outer clothing for convenient use."
Huntsman 203 Compass
by Silva

Precision You Can Trust
Ruggedly designed sighting compass with large mirror and lanyard

Heavy-duty locking pin for attachment to clothing

Millimeter and 1/20th inch reading scales

Luminous North arrow and Orienting arrow. Orienting lines

Rotating 360 degree dial with five degree graduations

Lifetime magnetized Tungsten steel needle

Permanently clear, anti-static liquid with fast settling needle

Luminous points for use after dark

Olive drab color
Price: $54.99
Out-of-stock