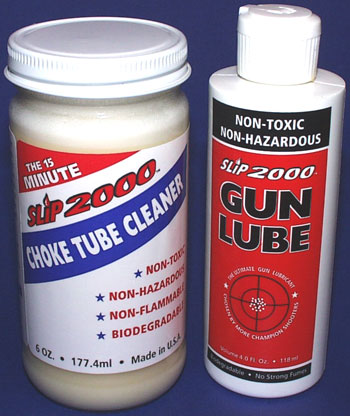 Read about Turkey Guns.
The Turkey Pro Sez: "You'll be delighted with SLIP 2000 Choke Tube Cleaner and Gun Lube. These NEW products make the gun cleaning chore a breeze.
Cleaning choke tubes properly, especially the slot-ported ones, is a real pain because it takes a lot of scrubbing with foul-smelling solvents and a lot of time. Not to mention, solvent all over your hands, and your spouse yelling at you…"what are YOU doing?", as she inhales the solvent smell.
It's important to remove all the built up powder, lead, and plastic wad residue to maintain the accuracy of your gun, even a gun that doesn't get fired very much, like a turkey gun.
But now, with SLIP 2000 Choke Tube Cleaner, the chore has been reduced to a few minutes. Just open the jar, attach a choke tube (or gas piston) to the wire hanger, lower it into the jar and let it soak for about 15 minutes. Then remove it, wipe dry, and all the residue is gone…. period. And while all of this has been going on, there has been no foul smelling solvent odors released into your home, just a slight pleasant odor.
As your choke tube is soaking, clean and lubricate your gun with SLIP 2000 Gun Lube. Lubricate all moving parts, including the inside of the barrel, to dislodge any dirt, grit, grim, and powder, lead, and plastic wad residue. Wipe away the residue, and reapply a protective coating. Shooters will notice faster shell ejection, smoother action movement, reduced wear and friction, better patterns, and reduced build up of carbon, lead deposits, and plastic wad fouling. When applied to the inside of the barrels of my skeet and trap guns, I have noticed a remarkable reduction in visible residue, and much less wad build up.
Both of these remarkable products are non-toxic, non-hazardous, non-flammable, and biodegradable, and work GREAT! Do yourself a favor, try them today!"
Slip 2000
Choke Tube Cleaner
& Gun Lubricant
by SPS Marketing, Inc.

Gun Lube
Specially formulated to clean, lubricate, and protect metal gun parts

Penetrates existing rust, lubricants, and scale buildup

Will not harden or become tacky

Withstands extreme temperatures from –80 F to +500 F.

Displaces trapped dirt, grit, grime, built up carbon, lead, and wad residue

Lubricates moving parts, reducing friction for smoother operation

Preserves metal parts with a protective coating, creating a barrier to water, preventing rust.

Non-Toxic
Non-Hazardous
Non-Flammable
Biodegradable
NO Fumes, pleasant smelling

4 ounce flip-top bottle

Price: $8.99
ORDER
Choke Tube Cleaner
Specially formulated for choke tubes

Quickly removes powder
and wad residue with no scrubbing

Choke hangs in jar on wire hangar

Soak for 15 minutes & choke is clean

Non-Toxic
Non-Hazardous
Non-Flammable
Biodegradable

NO fumes ... it's pleasant smelling

Long lasting

OUT-OF-STOCK