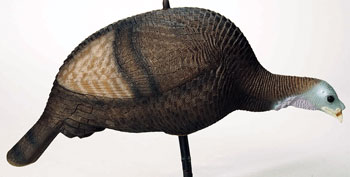 Learn more about decoys
Learn decoy tricks for gun hunters
Learn decoy tricks for bow hunters
The Turkey Pro Sez: "Talk about realistic! Add a few of these NEW decoys to your set-up to provide a soothing affect and natural look to attract even the wariest gobblers. These Supreme Feeding Hot Hen Decoys from Delta Industries should be the last feeding hen turkey decoys you'll ever need to buy! Why? Because they are the highest-quality, best featured, most realistic decoys made...period. I know because I was previously employed at Delta Industries. I am personally familiar with the manufacturing processes and quality control of this product. Also, I know the competitive brands well.



Supreme Stationary
Feeding Hot Hen
Collapsible Turkey Decoy
by Delta Industries

Most Realistic Decoy Made

Life-sized--three dimensional

Made from New state-of-the-art, virtually indestructible material

Superior, molded feather detail, realistic colors, permanent bronze sheen paint

Fully Collapsible

Weight: 14 ounces

2-piece plastic stake
Discontinued by Manufacturer

For Informational
Purposes Only