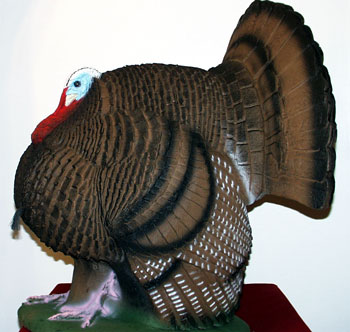 Learn about the vital areas on a gobbler
Learn more about decoys
Learn decoy tricks and how to use gobbler decoys safely
Learn decoy tricks for bow hunters
The Turkey Pro Sez: "Talk about realistic practice! This T-Series 3-D Strutting Turkey Target from Delta Industries will have your hands sweating and your heart pounding! It looks so good you'll create traffic problems if you put it in the front yard. Delta Industries is well known for producing the highest quality and most realistic looking 3-D targets available. Shooting this target is the best method for getting over "turkey fever" and "target panic" as a bow hunter.
Think about it....you don't get many shots at gobblers, so when one hard-won shot presents itself, your whole body can go crazy and a simple 10 yard shot can seem like a complex Olympic shot at 100 meters. Do yourself a favor, get over your jitters, hone your shooting and learn where to hit a gobbler all at the same time with one of these Super-Realistic T-Series 3-D Strutting Turkey Targets.
It also doubles as a decoy...a heavy one...but it will work when you're planning to hunt in the same location for a while. But...remember to hide or cover this target up when you leave, because real turkeys will come around and peak it full of holes...or it may be stolen" Be very careful when using a target as a decoy, especially a super realistic-looking one like this. Other hunters in the area will likely mistake this for the real thing, so when you know others are in the area, be super careful or don't use it until you think the others have left the area.

T-Series 3-D Full Strut
Archery Target
by Delta Industries

Most Realistic Turkey Target
With An Attitude
Life-sized--three dimensional

PERFECT way to practice hitting the tiny vital areas of a turkey. Use as decoy also

Made from New flexible, self-closing foam that will withstand pounding from heavy compound bows and carbon arrows

Detachable, replaceable tail

Easy arrow extraction

IBO-A.S.A. approved scoring rings, including 12 ring

Dimensions: 25" long, 32" high
Superior, molded feather detail, realistic colors, permanent paint, including beard
DISCONTINUED
We Recommend
Strutting Turkey with "DuraFlex Body" by McKenzie # 20400