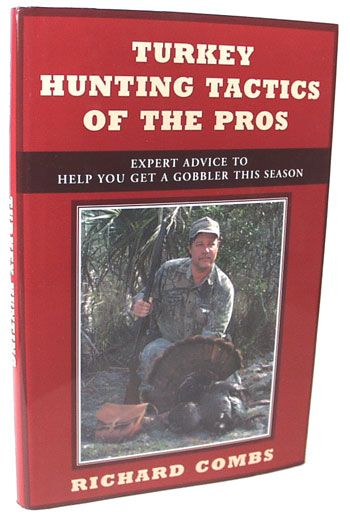 NOT AVAILABLE IN MOST STORES
Read about how to learn all you can about turkey hunting

Price: $15.99
ORDER
The Turkey Pro Sez:
"When I agreed to be interviewed by Richard Combs for his new book,

Turkey Hunting Tactics of the Pros, I thought it was a great concept…a collection of

SECRETS

of the Pros all in one book!

I read it from cover to cover as soon as I got my copy.

For example, learning how other pros, like Lovett Williams and Dick Kirby handle stubborn gobblers provided me with new tactics to try.

Richard has attended several of my advanced turkey hunting seminars in the past.

I think one of the reasons he wanted to include me in his book was to document some of my unusual, but effective tactics that I share in front of a live audience!

I did share a lot with Richard in my interview, and you too can find out my

SECRETS

when you read his book.
The book is easy to read, with expert advice of the pros neatly woven into each chapter and organized by subject matter. All subjects are thoroughly discussed by the pros, with different opinions provided, giving you many good choices of tactics to consider.
I would summarize this book as an advanced text on handling all issues facing turkey hunters, with many solutions provided by professionals who have overcome the obstacles of turkey hunting. It's a great read, and I highly recommend it to all serious turkey hunters. You'll be armed with many advanced hunting tactics after reading this book and will become a Master Turkey Hunter…Guaranteed!"
Turkey Hunting Tactics
of the Pros
by Richard Combs

EXPERT Advanced Turkey Hunting Tactics from 14 Pros
200 pages -- hard cover

Fourteen professional turkey hunters reveal their SECRETS for consistent success...spring or fall

Interviews with 5 seasoned experts:

~ "The Turkey Pro"- Roger Raisch
~

Dr. Lovett Williams

~ Quaker Boy's

Dick Kirby

~

Eddie Salter

~

Paul Butski
Plus advice from Gerry Bethge, John Byrne, Pete Clare, Peter Fiduccia, Tim Hooey, John McDaniel, Matt Morrett, Larry Norton, and Steve Puppe.

17 fact-filled chapters of professional SECRETS, and advanced hunting tactics including:

~

Power Scouting

~ Run and Gun?

Or …Wait 'Em Out?
~ Hunting Tactics for All Weather
Conditions
~

Hunting Henned-Up Gobblers

~

All About Blinds

~ The Ultimate Challenge --
Turkeys With A Bow
~

Optics for Turkey Hunters

~

Calling Secrets

~

Perfect Setups

~ What to Do When the Woods Are
Silent
~

Hunting the Grand Slam

~

Afternoon Hunting Strategy

~

How to Find and Hunt Fall Turkeys
~

Last-Ditch Tactics

~

Fall Hunting With Dogs

~ Wild Turkey Recipes


Plenty of photos to illustrate hunting tactics. Book is organized by subject matter, with in-depth expert advice from the pros offered in each section based on interviews conducted by the author.

Author Richard Combs is a field editor for Bowhunting World and Ohio Sportsman magazines, a well-published outdoor writer, and an addicted turkey hunter

Autographed by the author
Must Reading for serious hunters!
Price: $15.99
ORDER